HIPIRMS: Ion Optics Simulations, Magnetic and Electrostatic Fields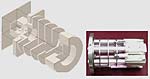 Lecture Material
Here you will find an introduction by Tony Appelhans (INL) to ion optics simulations, available as either PDF or Powerpoint. Here you will learn some of the basic logic behind the commercial ion optics simulation software, SIMION.

Sample slides from the presentation: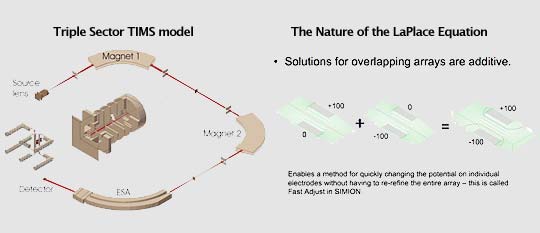 SIMION Exercises: Basic magnetic and electrostatic fields
The SIMION exercises allow the user to investigate the behavior of ions in both magnetic and electrostatic fields. They have been developed for use on SIMION version 7. They will work on version 8, but the user interface is different so some of the comments about panels and tabs will not be appropriate, you';l have to work through those changes.
Instructions: You will need to download both the written instructions and the SIMION models to take full advantage of these exercises.
Sample Exercise:
3. Radius of curvature of a charged particle in a cylindrical electrostatic analyzer.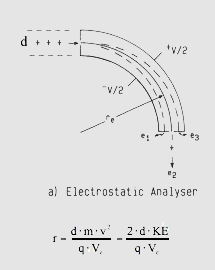 Push Quit; from main menu screen push Remove All Pas from Ram
Select View
Select ESA 90.IOB
Push Fly'm
Push the PE View button on the upper right. This shows the potential energy map.
Push the WB View tab.
Push the Def button and look up the energy of each ion (color).
Push OK to return to the View screen.
Push the PAs tab on the top line.
Push the Fadj tab in the middle row.
Change the voltages by 100 volts and then push the Fast Adjust PA button.
Push Fly'm
Explore changing other variables (mass, for instance), charge, ion energy.