Abstract: Virtual Device is an add-on software package to SIMION 7/8.0/8.1 and future versions. It covers several features not fully developed in SIMION such as graphical geometry (GEM) building, data analysis, and ion movement in a gas. Virtual Device was developed independently by SIMION user Dr. Sergei Koltsov, St. Petersburg Russia (HSE-Saint Petersburg).
Main Features
Build geometry (GEM) files graphically.
Analyze SIMION data recording data (e.g. histograms/spectrums, phase plots, resolving power, and mobility calculations)
Optional hydrodynamics version: Navier-Stokes gas flow solver for supersonic, compressible, invicid flow conditions (e.g. supersonic jet), explorting gas flow, pressure, density, temperature, and velocity PA's into a SIMION collision model.
Click to download above PDF poster.
Documentation
Manuals can be downloaded below:
Virtual Device, Demo Version, Manuals, Date:2012-04-25 - This includes

3D Editor manual (~112 pages, for both Light and Hydrodynamic versions)
Data Analysis manual (~34 pages, for both Light and Hydrodynamic versions),
Virtual Jet manual (~87 pages, for Hydrodynamics version only),
ESI interface manual (abridged ~53 page version in demo, for Hydrodynamics version only),
Slides (~19 pages).
Short Visual Overview of Virtual Device
The first program in Virtual Device is the 3D Editor: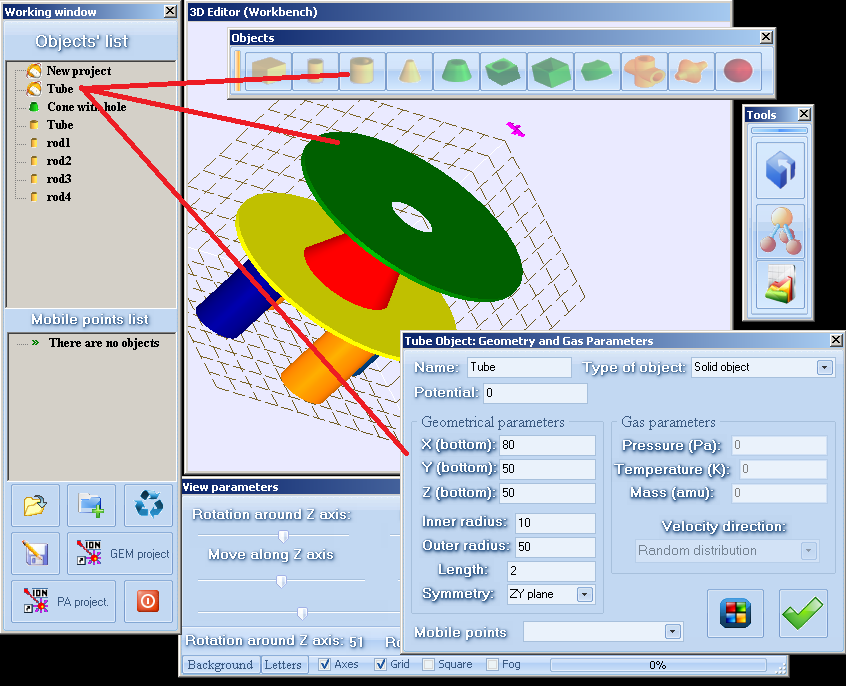 Here, you can draw your electrodes using a selection of shapes. Each shape has various parameters that may be set. The system can be exported as a SIMION GEM file for loading into SIMION. (In the Hydrodynamics version of Virtual Device, gas flow boundary conditions can also be defined here in the same model and exported to the Virtual Jet flow calculator.)
The next main program is Data Analysis: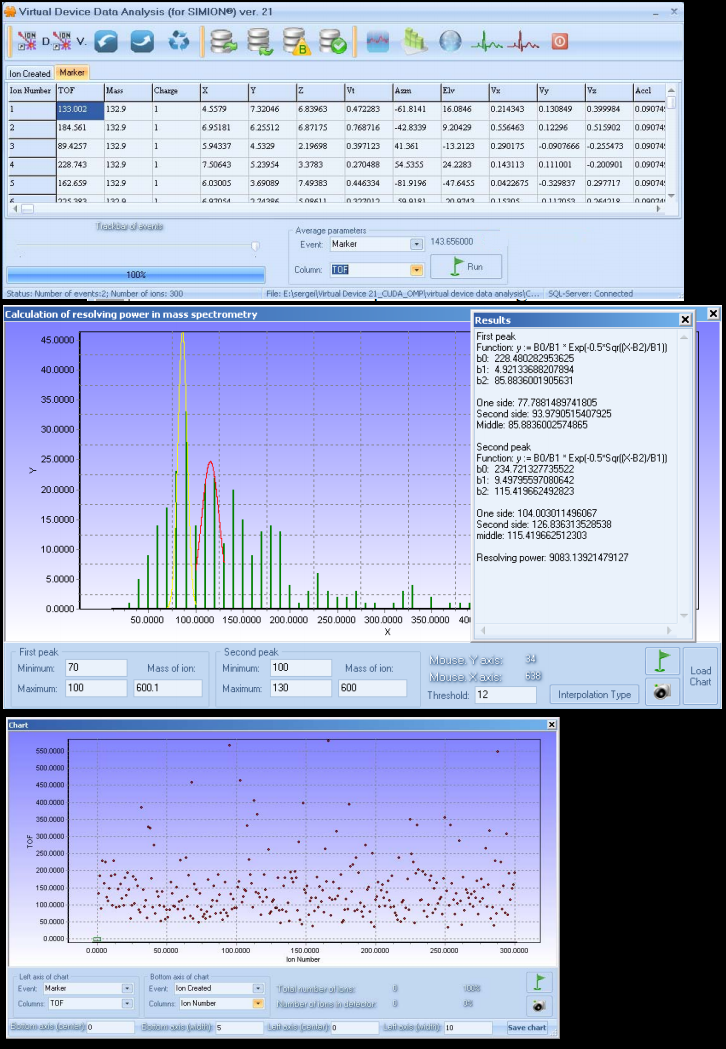 Data Analysis can load SIMION Data Recording results and perform various plotting and analysis functions, some of which are specific to mass spectrometry.
Special Hydrodynamics Version - Supersonic Jet Simulation
A more advanced version of Virtual Device is also available that supports the flow calculation and simulation of ion movement in a supersonic jet. See Virtual Device 21 Hydrodynamic Version.

Notices
History
2012-04-25 - version 21.1 demo version available. This version is simpler to use and faster (does not require SQL server anymore).
2011-10-01 - version 21 light available
2011-01-26 - version 21 hydrodynamics version, pre-release version available for purchase
2010-12-01 - initial version 21 hydrodynamics beta version
2006-10-17 - version 18
2006-01-10 - version 16
2004-07-23 - first public release
Downloads
NEWS! 25 April 2012 - New v21.1 demo version available.
Demo version: You can download a demo version of Virtual Device Hydrodynamics from the "Check for Updates" button on main screen of the SIMION 8.0 or 8.1 software. (If you do not have SIMION but want to demo the hydrodynamics version, e-mail us, asking for the demo.) You may use the Demo version for about one month for the purpose of testing the software (non-production work). If you're interested in gas flow calculations, be sure to see the Quick Tour of the Virtual Device Demo. Details on the latest version 21 Light are described in the online manuals above.
People who have purchased Virtual Device 18 are entitled to a free upgrade to Virtual Device 21 Light. Click the "Check for Updates" button in SIMION 8.0 or 8.1 to download the Virtual Device update.
Conclusion
For additional details and information on other features, please see the short guide included with the software and the overview/screenshots. For any questions or to request a copy, please contact Sergei via e-mail:
Dr. Sergei Koltsov
Deputy Director Internet Studies Laboratory, Associate Professor,
Department of Mathematics, HSE
St. Petersburg, Russia
E-mail:

DISCLAIMER: Virtual Device is developed independently Dr. Sergei Koltsov, not by SIS. SIS occasionally tests Virtual Device and has found it very functional, but SIS makes no warranty or guarantees.
Sergei has extensive experience in SIMION and is a SIMION consultant.