Field Emission¶
Field emission (FE) is a process in which a metal surface will emit current when that surface is exposed to a sufficiently high electric field (typically on the order of 1 V/nm and under high vacuum to avoid an Electric Arc). The emission current density is a function of the cathode material work function and the local electric field magnitude over the surface and can be approximated by the Fowler-Nordheim equations, of which there are multiple variants. One way to generate the high fields required without resorting to high voltages is to start with a much weaker field generated by cathode and anode plates and between these place a tiny sharp electrode, typically in the form of a cone or tube with radius of curvature at the tip on the order of 1 micrometer. Fields near the tip can, because of the field curvature, be orders of magnitude larger than the surroundings, and this amplification factor is called the field enhancement factor. A pure field emission is called cold field emission (CFE), but at higher temperatures, a combination of thermionic and field emission called Schottky emission ([1]) can occur.
Simulation¶
See SIMION Example: field_emission [added in 8.1.1.0] for details on simulation. This illustrates some ways to handle problems of this nature and special techniques with the geometry and emission.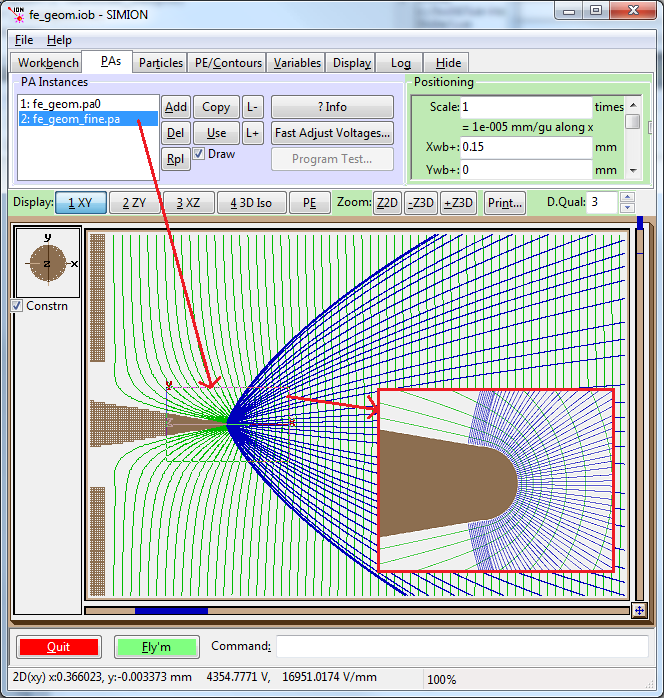 CPO¶
Field emission is one area where the CPO-3DS software (http://simion.com/cpo) excels. CPO uses the BEM method, which handles the large differences in geometric scale in an accurate and relatively straightforward way (simpler than FEM because it is only requires a surface mesh, not a volume mesh), for 2D and 3D, including high field accuracy field calculations on the surfaces and applying the Fowler-Nordheim emission on those surfaces.