Optimization¶
One goal of simulation is to determine system input parameters (like lens voltages and geometric dimensions) that optimize some output parameter (e.g. beam spot radius).
Optimization in SIMION is demonstrated foremost in SIMION Example: tune (voltage optimization) and SIMION Example: geometry_optimization (geometry optimization), and a few other examples apply the techniques like in SIMION Example: lens_properties and SIMION Example: hda. A related example is SIMION Example: spectrum (spectrum generation), which is not strictly speaking an optimization problem but does iterate voltages in a similar manner.
There are a variety of ways to iterate through the parameters, as the more recent (v8.1.0.40 or higher) versions of SIMION Example: tune illustrate. These include exhaustive iteration, binary search, and simplex optimization (see also simionx.SimplexOptimizer - Simplex optimizer). Some have also used genetic algorithms (GA) listed at bottom.
There are also a variety of ways to measure the parameter being optimized, such as shown in SIMION Example: test_plane and SIMION Example: lens_properties.
The problem gets inherently more complicated when you have more than one input parameter and/or if your output parameter has more than one (or even an infinite number of) local extrema. The larger number of dimensions lengthens the time to do an exhaustive (brute force) search, while on the other hand the possibility of more than one local extrema means that a more directed search (e.g. simplex) may hone in on only one extrema for a given starting position, so you may want to combine both search techniques.
Please note that SIMION 8.1.0.40 provides new programming segments (see Workbench Program Extensions in SIMION 8.1), which simplify and makes more robust problems involving optimization and reruns (e.g. avoiding problems in earlier versions with terminate segments not being called and making loops simpler to write). Examples were updated accordingly to take advantage of these improvements.
Screenshots¶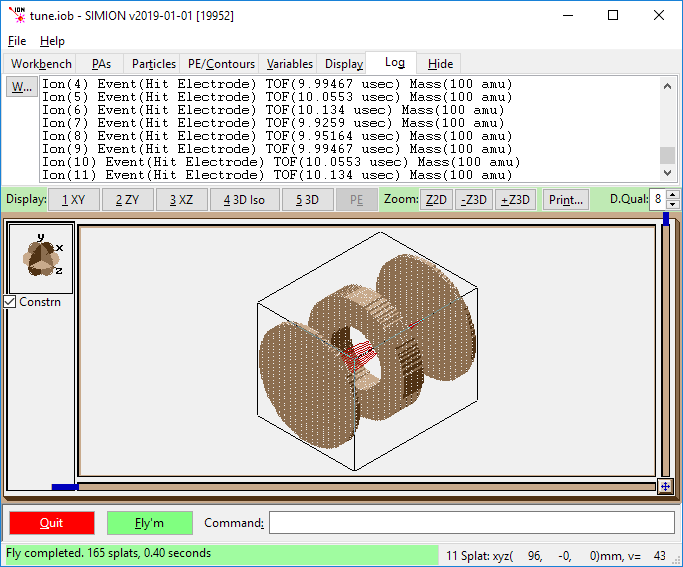 SIMION "tune" example, showing a user program to tune a lens. A simple three element fast adjust lens is provided for tuning. The middle electrode is adjusted via user program. This should serve as a simple example of how tuning problems might be approached.