(Mass) Spectrum¶
Background¶
Many analytical instruments characterize a sample by outputting a spectrum, which represents, in the form of a plot or data table, how some observed signal from a detector varies continuously as a function of another parameter. Many types of spectra exist. A mass spectrum, which is obtained in a mass spectrometer analysis and is therefore of interest to many SIMION users, is a plot or histogram of the signal intensity v.s. mass-to-charge ratio (m/z) for an ion population. An energy spectrum, which may be obtained in electron spectroscopy with an Hemispherical Deflection Analyzer (HDA), is a plot of intensity v.s. particle energy (rather than mass). An ion mobility spectrum, which is obtained in ion mobility spectrometry, is a plot of intensity v.s. drift time through a medium (related to particle size and shape). A frequency spectrum, such as obtained in ion cyctrotron resonance (ICR) mass spectrometry or in an orbitrap, is a plot of intensity v.s. frequency of a current signal, which might in turn infer a mass spectrum. Other types of spectra exist, such as absorption and emission spectra representing things like intensity of v.s. wavelength for light, but these don't necessarily involve charged particles and therefore are of lesser interest in the context of SIMION.
For a mass spectrum, the two axes are interpreted as follows. The intensity in the signal depends on the type of detector used but is typically a current or particle count, which for quantitative purposes if ideally (but not necessarily) roughly proportional to the number of particles hitting the detector (at least within the "linear dynamic range" of the detector). The m/z ratio conventionally assumes masses in Daltons (u) and charge in elementary charge units (u). The m/z ratio actually is not measured directly but rather inferred from the instrument, which may record position (using detector arrays), time (e.g. SIMION Example: TOF), electrode scanning voltage (e.g. Ion Trap), or an induced current frequency signal (e.g. ICR). For some types of mass spec sources, it's usually the case that z = 1 (e.g. single charged cations typical in EI sources), but in other cases, different peaks may often correspond to different z values (e.g. typical in ESI sources), so it's really a mass-to-charge spectrum not a mass spectrum.
See also Wikipedia:mass_spectrum.
SIMION Specific¶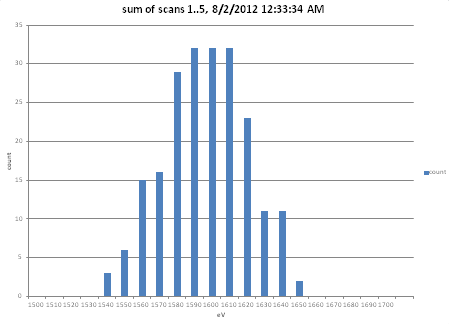 SIMION can be utilized to simulate a complete mass spectrum (or other type of spectrum involving particle counts) for the purpose of determining things such as peak shape and the inherent resolution or resolving power of the instrument. A few points to consider:
Resolution and Resolving Power¶
Peaks that partially overlap might not be distinguishable. For a given instrument, the smallest difference in m/z between two peaks still distinguishable is referred to as
. There are different ways to define
, such as by full width at half maximum (FWHM) or a % valley. Depending on the instrument,
might be constant or it might vary as a function of

. The same is true of the quotient

. The values

and

have been termed resolution and resolving power, sometimes interchangeably in a confusing way. For details, see the links below.
Computing FWHM¶
Standard deviation provides a simple and robust measure of spread. Another statistics often used is full-width-at-half-maximum (FWHM), which measures the distance between positions on the peak where intensity is 50% of the maximum value for intensity in the peak.
One way to compute FWHM is to store the intensity values in a Lua table, sorted by mass. Find the maximum value in that table. Then find the indexes in the table where the intensity crosses half maximum. Note: Double peak or noise could cause multiple sets of points where the intensity crosses half maximum. The below code illustrates what you can do, although improvements could be made:
-- Build example peak
local masses = {}
local intensities = {}
for i=1,100 do
  local mass = 10 + (i-1)*0.1
  local intensity = 3*math.exp(-(mass-15)^2)
  masses[i] = mass
  intensities[i] = intensity
  print(mass, intensity)
end

-- Compute FWHM statistics
local function stats(masses, intensities)
  -- Get index where intensity is a maximum.
  local maxi = 1
  for i=1,#intensities do
    if intensities[i] > intensities[maxi] then
      maxi = i
    end
  end

  -- Half-maximum intensity
  local halfmax = intensities[maxi] / 2

  -- Find indices where intensity crosses half-maximum
  local crosses = {}
  for i=0,#intensities+1 do
    local i1 = intensities[i-1] or 0
    local i2 = intensities[i] or 0
    if i1 < halfmax and i2 >= halfmax or
       i2 < halfmax and i1 >= halfmax
    then
      table.insert(crosses, i)
    end
  end

  if #crosses < 2 then  -- peak not found
    return nil
  end

  local imin = crosses[1]
  local imax = crosses[#crosses]
  local massmin = masses[imin]
  local massmax = masses[imax]
  local deltamass = massmax - massmin

  return maxi, deltamass
end

local maxi, deltamass = stats(masses, intensities)
print('maxintensity=', intensities[maxi], 'maxmass=', masses[maxi], 'deltamass=', deltamass)